Tyler McMullen '23
Business Administration: Management and Justice Studies Dual Major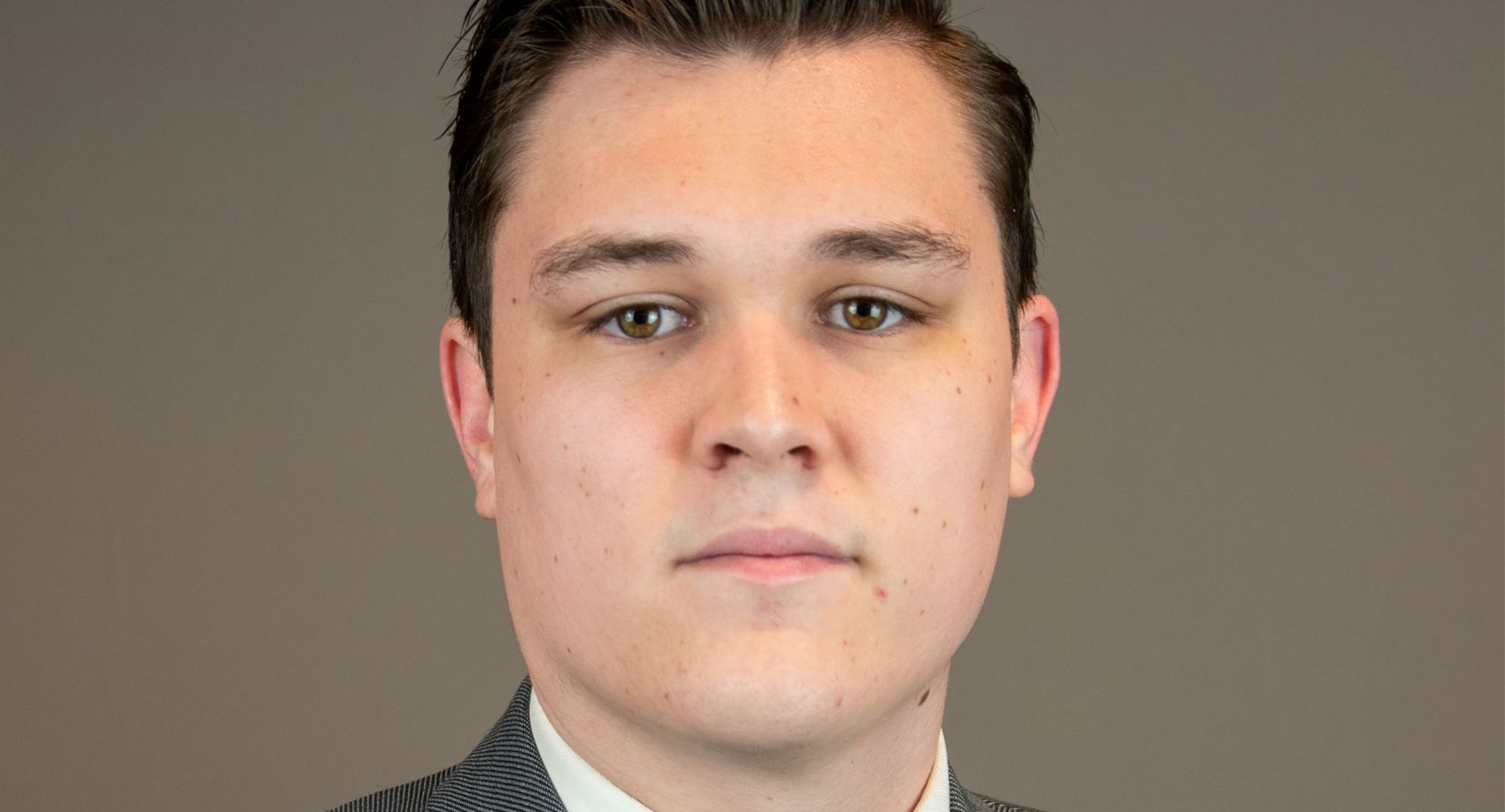 Why did you choose UNH?
I decided to attend the University of New Hampshire primarily because I moved away from my hometown in New Hampshire to attend high school in Florida. I always knew that I planned on coming back to New England because of the educational opportunities and my roots here. However, I was having trouble narrowing down which school I was going to commit to in New England. That all changed when I stepped on campus. The size of our school, although large, felt like a tight-knit community. Alongside, the outdoor feel and academic scholarships made UNH the one for me.
How did you choose your major and why?
I selected my business management major because I felt as though it was very applicable to many things in the future. My business degree was supposed to be a fall back plan if something were to happen to me as a state trooper. I would later learn that my business major would complement my justice studies one. Having the ability to interpret financials and make informed strategic decisions based upon data would prove very useful for the career path that I wanted to have as well as make me a competitive type of candidate. When I was younger, I attended BNY Mellon's bring your child to work day with my grandfather. He was the assistant vice president of operations and IT and this gave me very early exposure to the subject of business as well as the interaction between business, government and society. As far as my justice studies major, I have known for my entire life that I wanted to help others in their time of need. I want to be the one individuals look toward to guide them in times of crisis, to bring order to chaos. Criminal justice is what I thought I wanted to go to college for; however, hearing about how the program here at UNH takes so much more into account, I immediately jumped at the chance. My career aspirations begin with wanting to become a New Hampshire state trooper but as I have continued through the Justice Studies Program, these aspirations have evolved to working at the federal level. The Justice Studies Program has exposed me to a number of different individuals that work at both state and federal agencies and has given me the opportunity to talk with them for guidance. This is something that I never imagined I'd have the privilege to do. I am happy to say that some of these individuals have become my mentors.
What do enjoy about your major?
The best part about being a justice studies major is that as students we are taught to critically analyze and interpret situations that the average person does not. Whether it is a court ruling in Law and Society that I must debate or helping conduct research on the New Hampshire police standards and training academy. The opportunities that I have in the program are unmatched. In terms of the faculty, there are not enough words to express the gratitude that I have for each of them. Thank you to Professor Trombley, Professor Eckstein, Professor Perkins and Mrs. Deb Briand. They have played a key role in my development as a college student and individual. Often times you are told that you have one professor that changes the way you see things in college but at UNH we have a whole department that pushes you beyond the surface level. Everything has an influence on one another in our society in one way or another. It is all inherently connected and the justice studies program has shown me that.
What do you enjoy about being in the College of Liberal Arts?
The College of Liberal Arts allows students to think bigger picture and interpret other subjects rather than what they are typically comfortable with. It exposes them to classes that the otherwise may not have taken.
Have you undertaken any experiential learning?
My very first opportunity was with Professor Robert Eckstein and a justice studies masters student. It entailed being a research assistant/consultant for the New Hampshire Police Standards and Training Academy. This was a catalyst for the rest of my professional career while in college. I met weekly with the research team to review the results of our 600-item Job Task Analysis survey that was sent to every officer within the state of New Hampshire. My primary objective was to sort raw survey data, compile the responses and develop an executive summary of the findings, including infographics and charts to convey important details. Based on my performance in this role, I was then accepted to the New Hampshire State Police Internship Program, in which I worked directly with troopers, learning the operations and functions of the State Police. It is there that I learned to critically analyze high intensity situations to minimize risk, the ability to multitask and techniques for diffusing conflict effectively. The individuals I had the pleasure of working with directly contributed to my leadership style. Upon the completion of this six-month program, I was then offered the position I hold currently as an investigative intern for the Commonwealth of Massachusetts. I am in charge of developing and implementing an expansion project for the underdeveloped areas within the 9th Congressional District of the Commonwealth. I am entrusted with an immeasurable amount of Personal Protected Identifiable Information (PPI) as well as representing the Commonwealth to the municipal and congressional leaders during high priority meetings. In that position, I have tried to display leadership and integrity that was modeled by many of the troopers I worked with.
Are you involved in any groups, clubs or organizations?
Senior career ambassador at UNH Career and Professional Success; Alpha Phi Sigma (Criminal Justice Honors Society); Alpha Kappa Psi, a professional co-ed business fraternity where I am the head of the professional committee; one of the founders and presidents of The Order of Justice, a justice studies exclusive club promoting knowledge beyond the classroom.
How is COLA preparing you for career and professional success?
COLA does an excellent job of letting their students know early on how important it is to have a clean and organized resume as well as being open to new opportunities. In addition they stress the importance of networks and gathering advice from former wildcats.
What are your post-graduation plans at this point?
I am interested in pursuing a Masters of Science in applied intelligence with the hopes of developing a long career within the government sector and eventually working for the Federal Bureau of Investigations or Homeland Security Investigations where I plan to investigate how criminal organizations use cyber currency to financially support their illegal activities as well as manipulate elderly populations with laundering scams.
What is the one thing people might be surprised to learn about you?
I have an extensive watch and tie collection.