Ben Wheeler
Public Administration M.P.A. | Seacoast Banker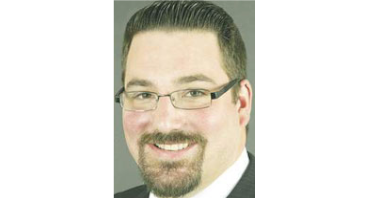 40 Under Forty, Seacoast banker Ben Wheeler helps lead within the community
"I think I'm probably one of the luckiest guys in the world," Ben Wheeler says when asked about the path his life has taken.
He comes from a close-knit New Hampshire family, has been guided by life-long mentors, and has the support of a loving wife.
It was his tee-ball coach, John Pratt, who encouraged him to pursue banking, and it was Pratt who nominated Wheeler for this year's class of 40 Under Forty honorees.
Wheeler worked for Citizens Bank for about a year before moving to First Colebrook Bank where he currently serves as vice president and commercial loan officer. Wheeler has been at the center of the local bank's success, both in the community and in lending.
"In order to be successful in a small community bank like ours, you have to be fully entrenched in your community," Wheeler said.
The bank encouraged him to pursue involvement in the local Rotary Club, the Portsmouth Area Chamber of Commerce, and other local organizations.
But Wheeler has not just been involved, he has led fundraising efforts, youth leadership efforts, and is always looking to do more.
As the former district chairman of the Rotary Youth Leaders of America program, he oversaw a five-day leadership training for 110 youth from across the district and also served as the U.S. RYLA representative to an international conference in Brisbane, Australia. Taking risks and having fun doing it is a part of Wheeler's makeup.
Some of his best days before welcoming daughter Emma six months ago was serving as river manager for Moxie Outdoor Adventures leading rafting trips down the Kennebec and Penobscot rivers in Maine.Today, Wheeler said he is still at his most relaxed when he is sitting in the middle of a raft, floating down a river.
Wheeler said life is a balance, and having an incredibly supportive wife helps him balance all of the duties of his life.
"Everybody around me buys into what I'm doing and if that wasn't the case, I couldn't do any of this stuff," Wheeler said.