THe right start
Being undecided about a major, what we call undeclared, is a great way to start your academic journey. As an undeclared student in the College of Liberal Arts, you couldn't be in a more perfect place to explore your possibilities and build your skills for career and life success. And you are not alone: nearly one third of all incoming students to UNH are undeclared and one third will change their major at least once.
The College of Liberal Arts is your launchpad, with over 30 majors and dozens of minors across fields in the humanities, social sciences, fine and performing arts, and education. Our top-notch faculty thrive on innovation and love to teach. Here, you'll have the options and freedom to find your path. And you'll leave UNH career prepared and world ready.
Pathways
From here, you can explore programs in the other colleges at UNH and, if you wish, apply to transfer when you meet the criteria. If you are accepted to the Paul College Pathway Program, we'll help you navigate the journey. Keep in mind that your choice of major is less important to employers than the transferable skills you build in a bachelor's degree program.
The Heart
Regardless of which major you choose, the Liberal Arts will be at the heart of your education. Our courses anchor the Discovery curriculum — the core set of courses that all UNH students take — because the mastery of language and people you develop in Liberal Arts are central to nearly every work and life endeavor.
We're Here
Here, you can achieve your goals. Our faculty and professional advisors will help customize a plan that's right for you — it's what they do every day.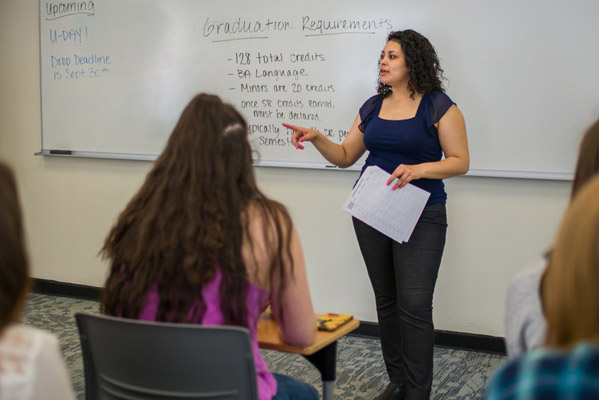 COLA 401
---
In this course designed specifically for undeclared students, you'll explore your interests and how those align with particular majors. You'll also learn about a whole lot of tools and tips for academic success at UNH, applicable to all majors.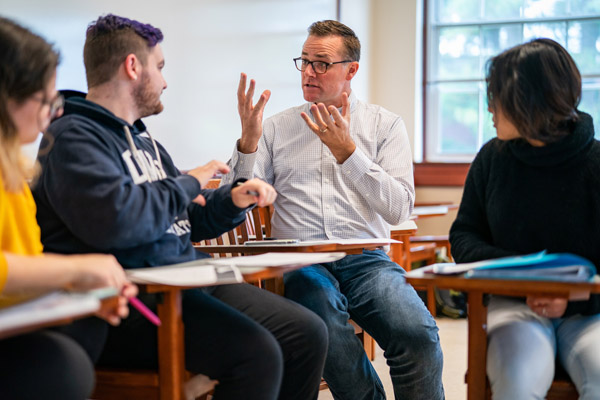 COLA 402
---
Digging Deep: Cool COLA Research (COLA 402) takes you on a journey across the college, where you'll hear from faculty about the fascinating research they undertake. Learn about the vibrant and diverse areas of study within COLA.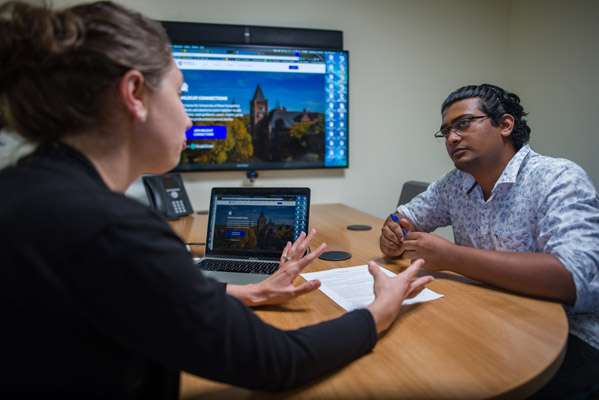 Career Exploration
---
Our career and professional success (CaPS) staff will work with you from day one to develop and realize your definition of life success. Unique career courses in the college help you explore your interests and build your skills for the future.
COLA RLC
---
That stands for Residential Learning Community! Join a community of other COLA first-year students living and learning in Alexander Hall. It's a great way to connect and find friends while exploring your major interests through events designed just for you. 
Yes. Being undeclared allows you to explore everything the University has to offer before deciding on a path – and that can be helpful. Nearly a third of students change their majors at least once during their undergraduate years, so sometimes what we think we want doesn't turn out to be what we really want. Why not give yourself time to explore and figure it out before committing to a certain major? In the process, you'll meet faculty across the disciplines who want to help you find the major that's right for you. Their doors are always open; you just need to walk through them.
Being undeclared gives you the opportunity to work with faculty as well as professional academic advisor in the departments and in the University Advising Center (UAC) to explore the full range of programs. The UAC advisors are well versed in the requirements of all programs across the University, regardless of what college a program is in.
You'll have access to COLA 401, a one-credit advising seminar for undeclared students to help you explore majors and build thoughtful class schedules. The course also introduces students to academic resources and opportunities outside of the classroom.
Yes! You'll take courses from around the university and be in the same courses as students in declared majors. There is absolutely no distinction between declared and undeclared majors within the classroom.
The biggest resource is people: faculty and staff who care and want to set you on your unique path at UNH. You'll have faculty who want to talk to you about your interests and professional advisors who will work with you one on one.
COLA 401 is a one-credit advising seminar for undeclared students to help them explore majors and build thoughtful class schedules. The course also introduces students to academic resources and opportunities outside of the classroom.
The University Advising Center offers online resources that help students explore majors.
COLA 402 is a 2-credit course that explores the range of research that takes place across the College, designed to help students get the full picture of our different disciplines. 
COLA's Career and Professional Success office offers interest assessments, job shadow opportunities, career field trips, alumni events and bootcamp courses that will help you see how your skills and interests can translate into a fulfilling career. That can often help you decide on what major makes the most sense.
It simply means that you are not in a major yet and that a world of opportunities is at your fingertips. You have until the end of your sophomore year to declare a major and a wealth of support to help you explore your options. You won't be limited to a certain set of courses and you won't take different courses from students who are declared. You will not be limited in what you can pursue in terms of co-curricular or extra-curricular activities.
Every major has different application and declaration rules. You'll learn all about that in your first semester in COLA 401, our advising seminar for undeclared students. Advisors work with students to help them get into the best position to declare their major of interest. They also work with students to explore multiple major interests so that students have more than one plan for major declaration.
Until the end of your sophomore year.
Yes, you'll be in the same classes as students with declared majors.
Whether you have a declared major or are undeclared, our faculty are always happy to meet with you to discuss your path.
All undeclared students are advised by the professional advisors at the University Advising Center (UAC) until they declare a major. The UAC advisors are experts on the requirements for all majors across the university and will work with you to find the right major for you.
The answer to this really depends. You may not have the requisite high school credentials to thrive in your first-choice major and we want you to thrive! Or the program may have a limited number of spots for new students. As a student in COLA, you will have access to many of the same courses that students in other colleges take in their first year, so it might be possible to take some of the coursework for your desired major and, if you do well enough, transfer into that major if you meet the requirements. But you may find something to be passionate about right here in our innovative programs in the College of Liberal Arts. Our alumni go on to work in business and finance, medicine, law, tech and a variety of other fields. You'll find that the particular major you have in college is less important in the professional world than how well you did and the portfolio of skills and experiences you built along the way. Statistics show that by mid-career, liberal arts majors nationally surpass the earnings of those who had professionalizing majors.
Yes. First-year undeclared COLA students are invited to join the COLA Residential Learning Community (RLC) in Alexander Hall. While both declared and undeclared students can take part in the COLA RLC, special programming for undeclared students will orient you to resources and help you on your path toward choosing a major and planning a career.  Bonus: you'll make friends and build community along the way.
 
COLA graduates are executives in top banking, insurance, media, security and consulting companies; founding partners of advertising, public relations, research and technology firms; and award-winning journalists, writers, educators, artists and policy leaders. There just aren't many fields that a COLA graduate doesn't work in. Check out some of our notable alumni and the careers of our distinguished alumni board.
 
Students find that perfect fit through exploration
When you think about it, how many 18-year-olds really know what they want to study when they sign up to attend a university? Some do seem to know, but quite a few others do not. "Starting off your college career as undeclared can be nerve-wracking for some students," says Nate Talbot, the director of the University Advising Center. "But there's absolutely no grounds for worry. The truth is that...