Alvina Snegach
Public Administration M.P.A. | Working on a M.P.A. degree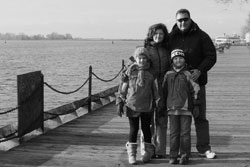 In the last two decades our world has become increasingly more and more interdependent. Various political and economic developments have contributed to this interdependence, including dissolution of the Soviet Union, development of sophisticated information technologies and knowledge economies, expanding international trade and capital flows, global war against terrorism, ecological crises, and so on. As a result, the need for governments across the world to coordinate their activities has deepened. In addition, thanks to the Internet and mass media, people are more aware of what is happening across the world and many believe they are global citizens, rather than citizens of a single country. I consider myself one of these people. I believe countries around the world share common challenges and opportunities and, therefore, everyone can benefit if we cooperate with each other, pool resources, and solve these problems.
My interest and passion towards public administration and international affairs have deep personal roots. I am originally from Kyrgyzstan, a former Soviet Republic. When I was seven years old my Mother took a chance and signed me up at the only school in the city that specialized in English language. Somehow she knew that knowledge of a foreign language would benefit me in the future. Her courage paid off. In 1994 I was selected to participate in a foreign student exchange program, which was carried out under the auspices of the American Council for Collaboration in Education and Language Study. At the time I was only 16 years old and felt so lucky and excited to be able to come to the United States. I spent a year studying hard at a US high school, made new friends, travelled across the US and most importantly polished my English language skills.
It was not until I returned home, however, when I truly realized the importance of my experience. I realized that people around the world have very different cultures and beliefs, that some countries have a stronger system of law and order, while others have weaker institutions, but most importantly, that despite all these differences, we are all humans with common problems that we can solve only through international cooperation.
It was this experience that influenced my decision to study journalism at the Department of International Relations at Kyrgyz-Russian Slavic University. At the time I applied there, the state no longer financed everyone's education but I was able to receive a full scholarship. While at KRSU, I underwent a rigorous program that combined both interdisciplinary studies along with extensive language training and practical work. Among my professors were distinguished representatives of the Kyrgyz political leadership and international organizations, who further deepened my interests in the fields of public administration and international relations.
Coming to the United States and becoming a citizen was a new chapter of my life. By then I was already married with two small children and had to leave my home, my relatives, my friends, and a job with USAID that I had gotten to love very much. It was a tough choice; however it had to be made, as the situation in Kyrgyzstan was getting worse both economically and politically. Instability is a great motivator in many cases and my family was no different. I admit we took our chances when we received that letter from the Green Card Lottery offering us a chance to start a new life in a country where opportunities are abundant and hard work pays off. The Green Card Lottery is a process in which people from all over the world submit their applications to be picked randomly by a computer to start the immigration process. Winning the lottery does not automatically guarantee immigrating, as it is only the first step in the long and tedious procedure of collecting documents, going through interviews and medical evaluations. It took our family about a year to complete everything and get a visa to the United States.
We have been here six years now and became citizens nearly a year and a half ago. Recently, my step-daughter, Radmila came to the US. She arrived in April, having to wait until my husband became a citizen before he could apply to have his daughter immigrate to this country.
We have a lovely home, our children are among the best students in their schools and we have built great relationships with people we have gotten to know here. I am now enrolled at UNH and am working on my MPA degree, hoping to graduate in a year and pursue a career with either Foreign Service or international organizations. This way I will be able to put my knowledge, experience and passion to work to serve this country that accepted me as one of its own and gave me a chance to succeed, and I will be able to help developing countries like Kyrgyzstan build their potential and capacity. I find it to be the most rewarding path that I could have chosen and I am striving to succeed
and work extra hard to achieve my goals.
Of course we all miss Kyrgyzstan and try to go visit every time we get a chance, but I feel that we are able to help our relatives better from here, than we would have if we stayed back.
Like I said before, this country gives us an opportunity to pursue our dreams and to work hard to achieve our goals. I don't want to sound trivial quoting Forrest Gump, however there is no way to avoid it. "Life is a box of chocolates..." We took a chance and we are very glad we did.